Tim Vicary "Dinosaurs"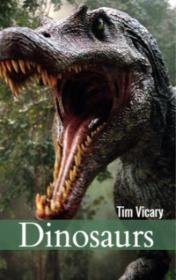 Tim Vicary
The story of the dinosaurs is a mystery story. Little by little, we have learned some of the secrets of these extraordinary animals over the years. On the way, there have been some big mistakes. When Richard Owen held a dinner for twenty important men in 1853, he hoped that they would remember an unusual evening spent inside the model of an iguanodon. And so they did. But it was only later that people realized that the horn on the iguanodon's nose was really its thumb...
We learn more all the time, but there are still more questions to ask. What colour were the dinosaurs? Which was the biggest of all? How fast could they move? And today we have dinosaur books, films, and computer games - what will we think of next? Scientists, businessmen, fossil hunters, kings, children - all kinds of people are interested in dinosaurs. Will that ever end?
 
Text Analysis: Unique words: about 1,000 Total words: 10,180
Hard words: archosaur, attract, bear, bone, brain, breathe, club, cold-blooded, continent, crocodile, defend, dung, Earth, elephant, enormous, evolve, female, fossil, fossilize, herd, hollow, huge, human, hunt, iguana, imagine, imagine, jaw, jaw, lion, lizard, male, mammal, model, mouse, museum, nest, ornithiscian, period, rhinoceros, sand, sauropod, scientist, sharp, snake, theropod, up to, victim, volcano, warm-blooded, weight, wound
 
Hits: 20