Harriet Beecher Stowe "Uncle Tom's Cabin"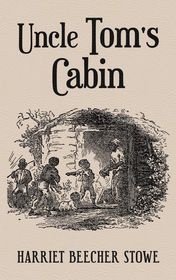 Harriet Beecher Stowe
In the early 1800's, black people were not free in America. They were slaves. Rich, white masters owned them. They used slaves to work on their farms. Many masters were terrible to their slaves. But some were kind.
The story is about uncle Tom and his life as a slave. The story is about moving to freedom, too.
 
Text Analysis: Unique words: about 450 Total words: about 3,560
Hard words: free, own, terrible, recently, poor, pay, debt, sell, price, salve trader, treat, believe in, care about, agree, hate, grow up, light, skin, lose, run away, save, hug, trust in, show, freedom, log cabin, tiny, smell, freshly, be filling with, excited, feel, hold, try, reach, be in danger, pray, protect, tightly, disappear, decide, slow...down, escape, saddle, upset, ride, for a long time, look for, runaway, cross, desperate, be full of, icy, yell, trap, chunk, wear, bleed, at last, side, powerful, slavery, senator, point to, across, knock, hire, catcher, chase, Bible, thankful, lovingly, promise, burst into, chain, drive away, wagon, way, store, follow, be able to, rich-looking, whisper, gun, seriously, safely, what about, worried, up to, replay, Quaker, the same time, bring, friend, special, bless, shocked, fall down, wake up, comfortable, punish, jail, cliff, climb up, appear, pull out, shoot, lie, badly, injure, call out, hurt, for care, border, travel, deep, trip, sweet, strong, return, take care, sick, stay, castle, fairy tale, healthy, kid, bakery, joy, bedside, free, dear, praise, walk, rush in, carry, local, tavern, drunken, push apart, stab, freedom paper, mean, fear, manage, hide, sunrise, pick, cotton, Jesus, notice, next to, man, beat, whip, in charge of, shed, teach, lesson, wound, fall in love, heal, completely, daily, ax, wrong, tell a lie, ghost, attic, afraid, plan, swamp, sure, immediately, crazy, look around, give up, search, then ever before, scream, stranger, Heaven, feel like, sheet, run out of, expensive, realize, explain, leader, wait, everywhere, pass, message, go free
 
Hits: 268